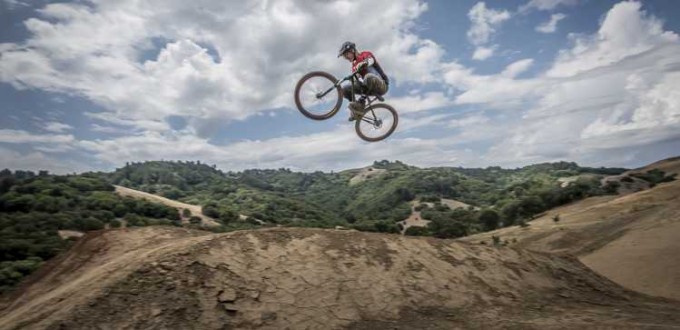 Innovative facility to be first of its kind in the North Bay
Photo credit: Ken Viale
San Rafael, CA – Strap on that bike helmet for a ground-breaking ride: The first phase of Novato's Stafford Lake Bike Park http://www.marincountyparks.org/depts/pk/our-work/parks-main-projects/stafford-lake, the North Bay's first public bike park, is set to open August 22.
The Phase I opening event, presented by Marin County Parks http://www.marincountyparks.org/ at Stafford Lake Park, is scheduled for 10 a.m. to 2 p.m. and will be free to the public (waiving the usual $10 park admission fee). Visitors will have a chance to ride the trails, hear from honored guests, mingle with park sponsors, listen to live music, enjoy refreshments, and donate to the future park phases.
The key features of the Phase I bike park include a progression jump course, dual slalom track, and a perimeter trail. Still to come in the next few months are a kids-learn-to-ride area and beginner pump track, though there is hope that both will be finished in time for the opening. Future park phases, to be built pending further fundraising, would add advanced and intermediate pump tracks, a terrain park, downhill and flow trails, bridge crossings, progression trail with balance features, and a main event plaza.
"We are so excited to cut the ribbon on this long awaited project," said Stafford Lake Bike Park Project Manager, Tara McIntire. "We still need to install various elements such as the entry plaza, gateway and other details. People will continue to see improvements as time goes on, but for now the heart of the park is built and it's time for riding!"
So far, the bike park project has received $732,000 in donations and sponsorships in the form of more than 200 contributions, from large corporations to local kids. Marin County Parks received vital assistance from the Friends of Stafford Lake Bike Park, a nonprofit formed to support both construction and long-term maintenance of the bike park.
"This has been an amazing collaboration that shows how public-private partnership can succeed," said Marin County Parks Principal Landscape Architect, Steve Petterle. "The Friends group ran into some serious barriers, but gained momentum as they garnered support and secured funding from local families, Marin businesses, and big-name bike brands. I still can't get over the fact that we had more than 200 individual contributions. What an amazing collective effort."
Although Marin is seen by many as the birthplace for mountain biking, it wasn't until 2010 when the concept for a County-run bike park picked up serious momentum. Public bike parks have been constructed throughout the nation in the past few years, including Bay Area facilities in Pleasanton, Livermore, San Jose and Santa Cruz.
In-house, the Parks staff – namely Tara McIntire, Steve Petterle, former Parks Director Linda Dahl, and current Interim Director Ron Miska – worked closely with County Supervisors Judy Arnold and Steve Kinsey to set the project's parameters with the Friends of Stafford Lake Bike Park. The nonprofit Friends group helped raise initial funds, recruited help from the mountain biking and racing professionals, and reviewed early design plans for the park.
# # #
Sponsors and donors of the Stafford Lake Bike Park:
*   County of Marin ($182,000 for design and construction drawings; $50,000 matching grant from the Board of Supervisors in 2013; $25,000 from the Board of Supervisors in 2015)
*   Fox Factory Holding Corp ($100,000)
*   Santa Cruz Bicycles ($75,000)
*   Hellman Foundation ($50,000)
*   Violich Family Foundation ($50,000)
*   Mike's Bikes ($50,000)
*   Peter E. Haas Jr. Family Fund ($50,000)
*   Bike Monkey ($25,000)
*   William H. Donner Family Foundation ($25,000)
*   Wilderness Trail Bikes of Mill Valley ($25,000)
*   Anonymous ($20,000)
*   Camelbak ($15,000)
*   Al & Cherry Baumann ($15,000)
*   Jerry J. Wilson Memorial Fund ($11,000)
*   Fireman's Fund ($10,000)
*   Julia Violich ($10,000)
*   REI ($10,000)
*   Clif Bar Family Foundation ($8,000)
*   Hennessy Funds ($5,000)
*   Bicycle Trails Council of Marin ($5,000)
*   Jeff Smock ($5,000)
*   Karen & Charles Neff ($5,000)
*   Lagunitas Brewing Company ($5,000)
*   Megan Costello & Robyn Raschke ($5,000)
*   Novato Community Hospital ($10,000)
*   Tim Koogle & Pam Scott ($5,000)
*   Hagar Family Foundation ($2,500)
*   Hobbs Family ($2,500)
*   RAB Motors ($2,500)
###
Need more info? Contact:
Tara McIntire
LANDSCAPE ARCHITECT
Marin County Parks
Marin County Civic Center
3501 Civic Center Drive, Suite 260
San Rafael, CA 94903
415 473 4287 T, 415 521 8059 C, 415 473 2495 TTY
tmcintire@marincounty.org
Stephen Petterle
PRINCIPAL LANDSCAPE ARCHITECT
Marin County Parks
Marin County Civic Center
3501 Civic Center Drive, Suite 260
San Rafael, CA 94903
415 473 6394, 415 473 2495 TTY
spetterle@marincounty.org
Julia Violich
President
Friends of Stafford Lake Bike Park
jviolich@violich.com
415-308-1589