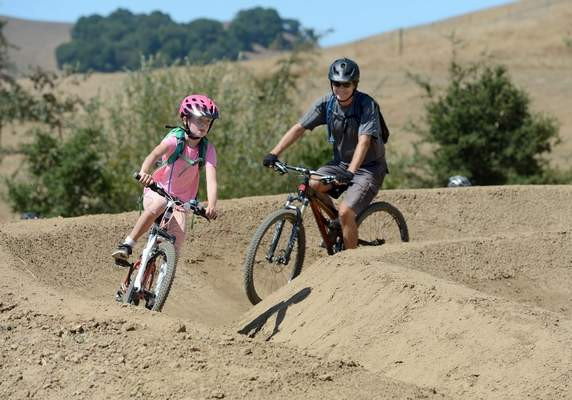 From the Marin Independent Journal, 8/24/2015
The opening of the new bike park at the county's Stafford Lake park is a promise kept.
County supervisors, who have been searching for a solution to bike riders' demands for access to open space trails, promised to help build a park specifically designed to meet the needs of mountain-biking enthusiasts.
Many Marin high schools have their own teams and clubs, but without access to trails they have had to leave the county in order to compete.
The bike park, which held its official opening on Saturday, should help address that problem.
By having local bike riders, especially youth, actively involved in its design, officials hope the park helps ease pressure where people are carving out their own illegal tricks-laced trails on county open space lands.
The county also has had a longstanding promise to design all new trails so they can be safely shared by all users.
At Stafford Lake, the county designated 17 acres of the 139-acre park for the bike park. The toughest trick has been coming up with the money needed to make it a reality.
Saturday's celebration marked the important opening of the bike park's first phase. It has been constructed with funds from the county, a nonprofit that raised $732,000 and private sponsorships.
"This county has never done anything like this before. The county literally gave us 17 acres to do our thing and then allowed us to raise money and be part of it and volunteer. It's an amazing partnership," said Julia Violich, who organized the nonprofit Friends of Stafford Lake Bike Park.
The county has engaged in public-private partnerships before. The McInnis Park golf course is one example. But this initiative also included the building of a nonprofit foundation.
Supervisor Judy Arnold deserves credit for keeping the project and promise alive, which required changes in political attitudes and coming up with solutions to costs that rose while the county's financial resources tightened.
The plans had to be divided into phases for budgetary reasons.
Like ballfields, tennis courts, skate parks, the bike park gives Marin kids a local place to participate in and practice a popular sport.
There's more work to do, but Saturday's opening was an impressive sign of progress, a promise kept and as one pedal-pushing celebrant said, "somewhere to get super rad on bikes."