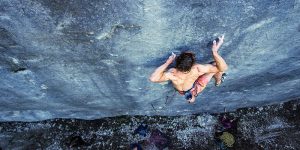 REEL ROCK 13 delivers jaw-dropping action, soulful journeys and rollicking humor in a brand new collection of the year's best climbing films. From Olympic training centers to the frozen landscape of Antarctica, explore the cutting edge of climbing with four new films. Featuring Adam Ondra, Madaleine Sorkin, Alex Honnold, Conrad Anker and many more.
DATE AND TIME
Sat, December 15, 2018
5:30 PM – 8:00 PM PST
LOCATION
Sports Basement Novato
100 Vintage Way
Novato, CA 94945
Tickets are $5, you must RSVP and pay through Eventbrite, no sales will be done in-store.
All ticket and beer sales benefit Friends of Stafford Lake Bike Park!
There will be various vendors on-site to speak with as well as representatives of Friends of Stafford Lake Bike Park, to learn more about their organization. ALL attendees get 20% off their entire purchase that day, regardless of time- just show the register your Eventbrite ticket. A raffle will be held before, during (intermission), and after the film.
Schedule of Events (Tentative):
5:00 – Check-in opens, adult beverages available (21+), vendor village open
5:45 – Pre-Show raffle, greetings & introduction
6:00 – Show begins
7:15 – Intermission, bathroom break, refill your beer
7:30 – Mid-Show raffle, intermisison announcements
7:45 – Second part of film begins
8:15 – Film ends, mingle & shop time!
This entry was posted on Monday, December 3rd, 2018 at 3:03 pm
You can follow any responses to this entry through the RSS 2.0 feed.
Posted in: Uncategorized