DESIGN
Master Planning Process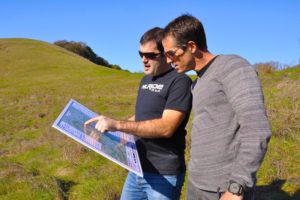 The project was master planned by Hilride Progression Development Group through a series of community design workshops that included onsite tours of the project site and design charettes.
The design of the park included three stages:
An initial 60% MASTER PLAN, a 90% MASTER PLAN,
A 100% master plan that allowed ample time for
community input to be received between each stage.
The master plan was approved by the Marin County Board of Supervisors on November 15, 2011.
Community Design Development
A series of community design workshops were conducted to gain design input from the community (riders, neighbors, park users, businesses, etc.) and to familiarize them with the project site and the project's opportunities and constraints. The community design development process ensured that the local cycling community was able to influence the design of the park as they will be the main users. This ensured that the design of the park reflects the local riding interests, styles, and preferences.
Design Goals
The goals for the project are to create a family friendly, sustainable, destination bike park facility, and to create a:
Progression based bike park with riding opportunities for all skills levels
Low maintenance facility, including effective erosion and sedimentation control
Park with opportunities for revenue generation for Marin County Parks
Family friendly, positive atmosphere

Sustainable Design Considerations
The design of the park includes careful consideration of the following elements of sustainable park design and development: environmental, economic and social sustainability.
Environmental Sustainability: The park is designed to minimize impacts to the surrounding environmental resources. Care was taken to ensure that soil erosion is minimized, water quality is not impacted, and biotic and cultural resources are preserved.
Economic Sustainability: The park is designed to minimize maintenance costs and activities and support revenue generation opportunities.
Social Sustainability: The park is designed to provide opportunities and challenge to appeal to a wide range of riders in order to ensure long term consistent usage of the facility.